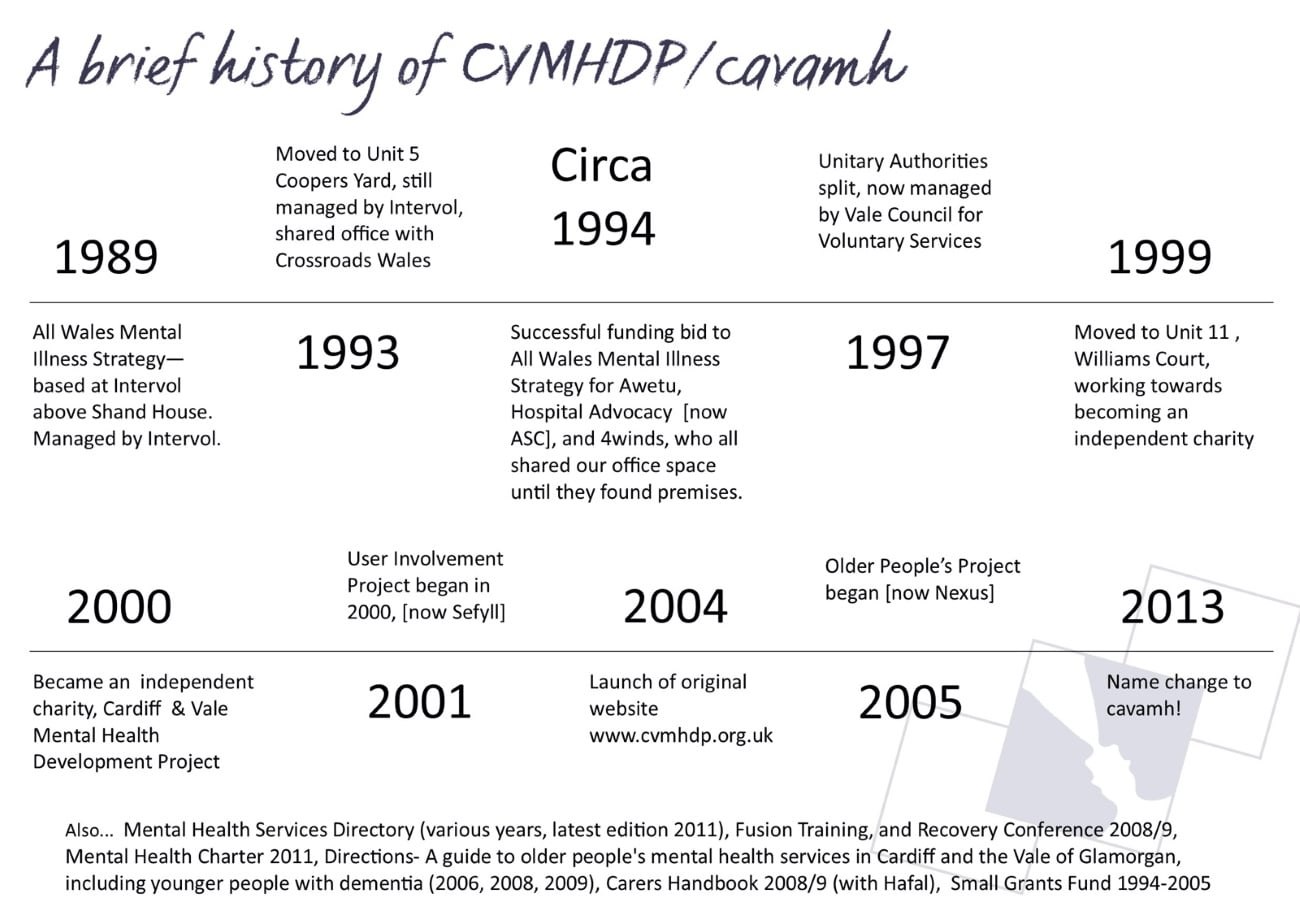 2018-22: cavamh co-ordinated the Dementia Friendly Communities
Small Grants Fund on behalf of the Cardiff and Vale Regional
Partnership Board, to enable community groups to embed local
initiatives.
2022/23: cavamh co-ordinated the Winter Wellbeing Small Grants fund to support
peer led group wellbeing initiatives.


Sefyll was our Adult Mental Health involvement project which operated until 31st August 2022. It focused on:
Involving people in the running, planning and development of the mental health services they use.
Working with organisations to develop involvement within their services.
Supporting the development of service user initiatives.
Training/retraining and skills building.
Many people saw Sefyll as an opportunity to influence policy and practice at a senior level. It's gave them the chance to identify and influence decision makers. Others saw it as a way to gain an understanding of services beyond those with which they are normally in direct contact.
Meeting other service users with a common understanding provided some people with a sense of 'camaraderie'. While others felt that being involved gave them a building (or re-building) of confidence and even 'a purpose in life'.
Goodbye And Thank You From Sefyll
Nexus was our Older Persons Mental Health Involvement project which operated until 31st August 2022 . Nexus was set up in Cardiff and the Vale to provide support and resources to older people and armed forces veterans who access mental health services including those living with dementia and their carers.
Nexus gave the opportunities for older people to:
gain an understanding of services available to them as a service user or carer;
make new friends with other service users and carers;
build confidence in speaking out;
use their experiences to positively influence mental health services in Cardiff and the Vale.
Sharing insights and experiences and feeding them back to service providers, means that future services can be changed to suit the needs of those who use them. This in turn makes the services better for everyone.
Goodbye And Thank You From Nexus
We are hugely proud of all that has been achieved through the Sefyll and Nexus projects; in particular, we appreciate and are grateful to all the staff past and present that have worked on the projects over the years, our members and supporters, our service user representatives, and not forgetting our volunteers.
Thank you to everyone who was a part of this journey with us, we could not have continued to achieve so much without you.
Involvement services will continue to be provided via Adferiad/Caniad 
Below you will find a timeline of some of our notable acheivements and activities.