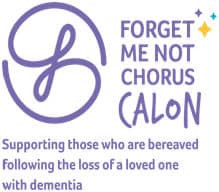 Forget-me-not Chorus Calon : supporting those who are bereaved following the loss of a loved one with dementia.
Forget-me-not Chorus, in partnership with the 'Arts for Health and Wellbeing' programme run by Cardiff and Vale University Health Board, is bringing a new chorus to Cardiff to support those who are bereaved after having cared for a loved one with dementia.
Bereavement can affect family and friends emotionally, physically, and also impact mental wellbeing; We know that everyone's experience of bereavement is unique, but there are shared experiences which only those who have cared for someone close with dementia can truly appreciate.
Join our new community and share experiences and support…
Calon Chorus is creating a community of shared experience and support, providing an opportunity to find company and friendship from those in similar circumstances. Through Calon, we offer a joyful and uplifting experience through the power of song, reducing feelings of isolation that can come following a bereavement.
"It is just nice to be able to talk to people in the same position, none of our friends are in the same position and although they are sympathetic, they don't understand, here people understand."
FMNC participant
Visit us
Come and join Forget-me-not Calon Chorus – all family and friends are welcome.
FMNC Calon Bereavement Chorus
Launching 22nd September 2022
Canton Uniting Church, Cowbridge Rd East, Cardiff, CF5 1LQ
Thursdays 6:30–8:30pm
Contact Poppy on 07503 158667 or [email protected]
Forget-me-not Chorus Calon: i gefnogi'r rhai sydd mewn profedigaeth yn dilyn colli rhywun annwyl â dementia.
Mae Forget-me-not Chorus, mewn partneriaeth â'r rhaglen 'Celfyddydau dros Iechyd a Lles' a gynhelir gan Fwrdd Iechyd Prifysgol Caerdydd a'r Fro, yn dod â corws newydd i Gaerdydd i gefnogi'r rhai sydd mewn profedigaeth yn dilyn colli rhywun annwyl â dementia.
Gall profedigaeth effeithio ar deulu a ffrindiau yn emosiynol, yn gorfforol, a hefyd yn effeithio ar les meddwl; daw dealltwriaeth na all neb ond y rhai sydd wedi gofalu am rywun annwyl â dementia ei werthfawrogi mewn gwirionedd.
Calon Chorus yn creu cymuned o brofiad a chymorth a rennir, gan roi cyfle i ddod o hyd i gwmni a chyfeillgarwch gan y rhai mewn amgylchiadau tebyg.
Trwy'r côr, byddwn yn cynnig profiad llawen a chyfle i godi calon trwy rym cân, gan leihau'r teimlad o unigedd a all ddod yn dilyn profedigaeth.
Ymunwch â'n cymuned newydd i rannu profiadau a chefnogaeth.
Canton Uniting Church, Heol Ddwyreiniol y Bont-faen, Caerdydd, CF5 1LQ
Dydd Iau 6:30–8:30pmCysylltwch â: Poppy  ffôn: 07503158667 e-bost: [email protected]